Cast Away: Fishing Safety & Boating in Arizona! Arizona is blessed with diverse fishing opportunities, from the large reservoirs to the trout lakes in the mountains, and plenty of low-elevation fishing holes in between. Go out and catch a memory!
Recreational fishing (especially angling) is one of the most popular activities in the world, but as with other sports, it's not without its risks. Most anglers are careful to avoid the obvious and most dramatic of fishing dangers (dehydration, hooking a finger, boat motor fires, accidental drowning, etc.). However, if you want to keep yourself in top fishing shape, you also have to protect yourself from more mundane fishing hazards – overuse injuries.
As the name states, overuse injuries are caused by too many uninterrupted repetitions of an action. The body parts involved become fatigued to the point of injury; this effect is intensified if the repeated action requires awkward or unnatural movements, such as is sometimes seen in bowling or pitching a baseball. Overuse injuries are notoriously stubborn to cure – but then again, it's often those with the injuries that are stubborn. Because you must treat an overuse injury with rest (which means taking a sometimes lengthy break from the beloved activity that cause the injury in the first place), many people make the mistake of returning to activity before their injury is fully healed, creating a vicious cycle that can be difficult to break.
Angling provides the perfect conditions for an overuse injury thanks to the repetitive movements of casting coupled with the bad body mechanics that are common to so many people. As is often said, prevention is the best medicine. With a few simple tweaks, you can help stop overuse injuries from ruining your fishing trips.
Although it might sound silly, you should prepare in advance of a fishing trip the way you would for other athletic events. Keeping yourself in good physical condition will give you the endurance you need for long fishing sessions, and you will be less plagued by the aches and pains that can make your trip less enjoyable. Besides eating a balanced diet and exercising regularly, you should include stretching and strengthening exercises specifically geared for the muscles you will use during angling – your abdominals, back, and upper body.
Because fishing trips are often all-day affairs, it's important to change up your activity. Alternate sitting and standing – but do both with good posture – to avoid unnecessary stress on your back and feet. Switch your grip and casting style throughout the day so no one motion or position is repeated excessively (and as an added bonus, this will help you master a diversity of fishing styles). And perhaps most important of all, take breaks to rest, even if you don't feel tired. Remember that most people don't realize they are developing an overuse injury until it's too late.
Lastly, be realistic about your abilities. Seek coaching to fix any bad body mechanics you may have during casting. Shooting heads and sinking weights put extra strain on the wrists, elbows, and shoulders of anglers who aren't adept at their use, so avoid them for all but short periods of time if you fall into this category. In addition, using heavy or long rods, longer lines, and fishing for heavy fish should all be engaged in sparingly unless you are expert enough to do so correctly.
Fishing memories can last a lifetime, so don't let an overuse injury keep you from enjoying the water with your friends and family.
You throw a hook into the water, you sit and wait for a bite or you reel back in. Fishing is a great pastime, but in order for it to be truly enjoyable, you must be safe. Keep these important guidelines and tips in mind for a safe fishing experience.
1. Get physically prepared.
You don't necessarily need to be in top physical shape to catch a fish, but you do need to be able to navigate in and out of a boat or possibly across rocks to your favorite fishing spot. Since regular physical activity is essential for your family's health, make sure you stick to a daily fitness routine leading up to fishing season. Consider visiting the local pool to brush up on your swimming strokes in the case you fall out of the boat or into the water from the shore.
2. Check your fishing gear.
Fishing lines get old and tangled, fishing poles get worn, and lures can break. Open up your tackle box and discard broken fishing tackle. Restring your pole if the line looks ragged and replace your reel or pole if showing signs of damage. The last thing you want to do is cast out and hook someone or yourself due to faulty fishing gear. If you are going out on a boat, do a boat safety check and make sure your life vests are in good condition.
3. Dress up for the occasion.
Sturdy, protective footwear is especially important when fishing. It can keep you from cutting your foot on obstacles in the water or on shore, keep your feet warm, and prevent slipping. Wear clothing according to the weather conditions, choosing attire that will keep you cool in the heat and warm in the cold. Wear sunscreen regardless of temperature and consider a hat that shades your ears and face. Be sure you and the kids don those life vests if you are on the water. Life jackets are also important if you are wading in deep waters that have strong currents. Even if you are an excellent swimmer, a life jacket can help keep you safe in the event that you fall and hit your head.
4. Pack a first aid kit.

While you are hoping for the big catch, you may fall and sustain a cut, get bit by insects, or get a hook in the hand. A first aid kit can come to the rescue for many injuries.
For scrapes and cuts, rinse the wound with clean water (this doesn't mean pond water) and stop the bleeding by compressing with a clean cloth. Apply an antibiotic cream and cover with a bandage. Try to keep the area dry, changing bandage as needed.
For insect bites and stings, clean area with water, apply a cold compress if available, apply antibiotic cream, and take acetominophen or ibuprofen for pain. Be sure to remove ticks and stingers, if present, before treating. To avoid bites and stings, apply an insect repellent before you start fishing.
When it comes to fishing hooks, if the hook is embedded in the head or face, in a joint, or near an artery, seek medical help immediately. If the hook is embedded in the finger or elsewhere in the skin, clean area with soapy water. Tie a long piece of fishing line to the rounded part of the hook. Push the hook shank parallel with the skin and give the fishing line a firm, sharp yank. The hook should come right out of the entry point. Wash the area again and apply an antiobiotic ointment and bandage to keep it clean and dry.
Note: Be sure your family is current on your tetanus vaccinations.
5. Stay aware of your fellow fishers.
Keep distance between you and your fellow fishers to avoid hook or pole injuries when casting. Safety glasses are a good idea for kids to protect their eyes, especially as they hone their fishing skills. In addition, always know where your family members are and don't let your kids fish alone. Employ the buddy system.
New anglers. Should always learn how to cast overhead first. This cast teaches the proper technique and is safer than side casts.
6. Never go fishing alone. Always fish with someone else and, ideally, with two other people. If one person is injured or in danger, a second person can stay with them while the third person seeks help. This is especially important when rock fishing. Let somebody know the location of your fishing trip, who you are going with and an approximate time you will be back.
7. Weather and fishing
Staying aware of weather conditions is an important part of fishing safety. Make sure you have the most up-to-date local weather information available and be prepared for sudden changes. For coastal locations, take particular note of unexpected tide and swell conditions.
Additional Fishing and Boating Safety Tips: 
• No drinking or using drugs while driving a boat.
• Abide by boat speeds and wake zone laws.
• Stay alert of debris, stumps, boulders when boating.
• Stay off of the water if there are lightning storms.
• Use your boat lights at night.
• Keep an extra fully-charged battery on board.
• Use caution with hooks, like baiting, knot tying, rigging.
• Don't fish in unrestricted zones.
• Be sure you keep your area organized and clean.
• Carry maps of the areas you will be at.
• Bring a cell phone.
• Stay hydrated.
Arizona fishing and boating trips can range from a day of casting for trophy largemouth bass to fly-fishing for brown trout on Woods Canyon Lake. In order to experience the best fishing in Arizona, check for updates to fishing regulations, read local fishing reports, and find the best spot.
These 11 Amazing Spots In Arizona Are Perfect To Go Fishing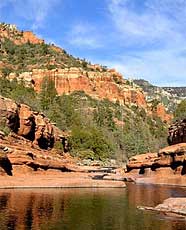 • Big Lake
• Cluff Ranch Ponds
• Dead Horse Lake
• Dogtown Lake
• Lake Pleasant
• Lake Powell
• Oak Creek
• Peña Blanca Lake
• Riggs Flat Lake
• Saguaro Lake
• Tonto Creek
If you experience an injury during your summer activities the Team at TOCA is here to help! Learn more about our Orthopedic Surgeons, Sports Medicine Physicians and Physical Therapy Team. To schedule an appointment call 602-277-6211!
Read more about summer time outdoors in Arizona: Arizona Hiking Tips: Take a Hike. Do it Right.     10 Common Summer Injuries  Men's Summer Health & Common Sports Injuries
#Results #Recovery #Relief #family #summer #fishingfun #fishingsafety #TOCA #TOCAMD #AZFishing
TOCA Webmaster
https://tocamd.com/wp-content/uploads/2020/05/toca-banner-logo2-300x138.png
TOCA Webmaster
2017-06-12 09:25:37
2018-10-30 15:39:44
Cast Away: Fishing Safety & Boating in Arizona