Arizona Hiking Tips: Take a Hike. Do it Right.
When you explore trails, you're leaving the safety and structure of your home and local Starbucks for an unpredictable and unstructured environment.  You can never eliminate the unpredictable aspect of nature, but the risk is part of the reward.  To make the most of your experience, you should be adequately prepared for what might happen.  Here are some simple rules to follow and items to bring on your trail adventure:
* Before you go, plan ahead. You are entirely on your own. Your descent marks your entry into a world in which preparation, self-reliance, and common sense are crucial. Be conservative in planning your hikes!
* Check the Weather. Checking the weather for the location where you will be hiking the days leading up to your hike and then double checking the morning of your adventure will make all the difference in the world. Knowing what the temperature is, what the percentage for rain will be, the long term forecast, the ceiling of clouds and the wind speeds will help you decide what the perfect clothes will be for your trip. It will also tell you whether or not going out that day is a good idea. If the weather looks bad, but you really want to hike, find a location where the weather will impact you the least. If you are not used to hiking with low visibility in wind, rain and sleet, avoid the mountains during stormy days.
* Know your Terrain. Before you hike something, know what it will be like and do some research. Read a guidebook, check online, ask Exotic Hikes a question, look at Topo maps and Google Satellite images; do whatever you can to understand what you will be dealing with. By researching your trail and the terrain you will be encountering, you will be able to bring the right clothes, shoes, amount of water and food and other miscellaneous gear.  Researching terrain will also let you know if you should expect a water source on the trail or if you need to pack extra water with you.
* Know what your destination will be. Don't overestimate your capabilities. Hike intelligently. You are responsible for your own safety as well as that of everyone in your party. Choose the hike that is best suited to your fitness level, interest and seasonal appropriateness. When you plan your hike, think of the position of the sun. On hot days you will want to hike early and late in the afternoon. If you do hike during the day, choose trails along creeks and those that provide shade. In the cooler weather, you may prefer to hike mid morning through mid afternoon to take advantage of the sun's warmth.
* Leave a note of where you are going. This is common sense. Never go hiking without telling at least 2 other people where you are going and when you expect to return. Leaving a note takes all of 5 seconds and could save your life. This is one of the simplest ways to stay safe and get rescued, should you get stranded. (Stay on the trail and never shortcut switchbacks.)
* Know where to get help. Most hiking trails have exit points that allow you to take a side path and reach a main road or a wilderness stop. Knowing where those side roads are can make a world of difference if you are seriously injured and alone.
Be a Lightweight and Bring the Essentials! 
* The less you carry, the more enjoyable your hike will be, so travel as lightly as possible. The heaviest items in your pack should be your food and water. Hiking sticks can take some of the stress off your legs.
* Wear well-fitting and broken-in lightweight hiking boots. Bring a small lightweight flashlight and a change of batteries and bulb. Wear sunscreen, sunglasses, and a hat. Bring a map, compass, signal mirror, first-aid supplies and water purification tablets (as a backup). 
* Carry your cell phone. Even if you don't have a signal, some "smart phones" have survival applications.
Dress Appropriately! Protect yourself from the sun. Wear hats with broad brims, sunglasses, sun screen and long-sleeved clothing. Consider wearing layers to modulate your body temperature. If you hike early in the morning, the weather will get much warmer by mid-day. If you hike late in the afternoon, be prepared for
a significant temperature dip when the sun goes down. Wear comfortable, broken-in boots or hiking shoes that will protect your feet from heated surfaces and loose, sharp rocks. A slip-free sole is a must!
Know your limits and abilities!
You, more than anyone else, know what your body is capable of doing while hiking. The worst thing you can do is to push yourself too hard and get stuck, unable to hike up or down. Do not feel like you have to keep up with someone hiking faster than you, as they are hiking at their pace and not yours. As soon as you feel out of your comfort zone, take a break, eat some protein, and drink some water and rest. If you still feel fatigued after a break of 5 or 10 minutes with zero improvement of your health and well-being, rest a bit more and call it a day. You are hiking for your enjoyment, not to keep up with everyone else.
Avoid Huffing and Puffing 
* If you can talk while you are walking, you are walking at the perfect speed. When you huff and puff, your legs, your digestive system, your whole body does not get enough oxygen to function efficiently. Your energy reserves get used up very quickly with this type of metabolism (anaerobic – without enough oxygen), and it creates a lot of waste products. These waste products make your legs feel heavy and make you feel sick.
* Walking uphill at a pace that allows you to be able to walk and talk will help guarantee that your legs and your body are getting the oxygen that they need to function efficiently (aerobically – with enough oxygen). Because your body will generate fewer of these metabolic waste products, you will be better able to enjoy your hike, and you will feel much better when you reach its end. It may seem like you are walking too slow, but at an aerobic pace (sometimes baby-sized steps when the trail is steep) your energy reserves will last many times longer, and you will get there feeling well.
Be Kind to Yourself
* Do not exceed your normal level of physical activity or training. If you have asthma, heart problems, diabetes, knee, back or any other health or medical problem, please limit your exertion and especially your exposure to the heat. The altitude, the strenuous climbing, dehydration, and the intense inner Canyon heat, all combine to make any medical problem worse. Please stay within your training, physical limitations, abilities.
Take a Break: Hiking isn't a race. If you feel tired, stop and take a small rest. There is no shame what-so-ever in having someone pass you on a trail. If you start getting tired, find a stump to sit on and kick back to enjoy the beauty of nature. Sometimes, just sitting in solitude along a trail can bring the best moments. After resting for 15 minutes in silence, birds start chirping more and wildlife not seen emerges from the forest around you. While everyone else is rushing to their destination, it is more than allowed to stop and smell the roses, especially when doing so will keep you rested, safe and thinking straight.
* A break of five to seven minutes every 30 to 60 minutes can remove approximately 20 to 30 percent of the waste products that have built up in your legs while hiking. Sit down and prop your legs up above the level of your heart and let gravity help drain these metabolic waste products out of your legs.
* Eat some food, drink some fluids, and take this break time to really enjoy and appreciate the view. These efficient breaks can really recharge your batteries. In the long run, these breaks will not slow you down.
No Hydration, No Food, No Fuel, No Fun 
The absolute worst thing you can do while hiking is to not stay properly hydrated and fed. Depending on the hike, you can lose anywhere between 2,000 and 6,000 calories to reach your destination. Those calories need to be replenished, or you will start seeing an increase in cramping, loss of high level cognitive abilities, dizziness and severe lethargy. Hiking is not the time to skip a meal or hold steady to your diet. Eat a ton while on the trails and diet while at home. Bring more water than you think you would ever drink, bring extra Gatorade and bring water purifiers with you. If you are properly hydrated, you should need to urinate at least once on every hike, and the urine should not be dark yellow or brown.
* The hiking rule of thumb is to drink a liter of water per hour, but in weather than exceeds 85 F, the need for water intake increases dramatically. Carry more water than you think you will need. It is easy to become dehydrated very quickly without realizing it is happening.. Signs of dehydration include headaches, fatigue and nausea. Drinking small sips of water throughout the day is a good way to stay hydrated. Some hikers find that pliable water bottles with tube extensions, called bladder bags, fit nicely into daypacks, and offer hikers the opportunity to sip whenever they feel thirsty while keeping their hands free.
* Eat and drink more than you normally do. Eat before, during, and after you hike. Eat before you are hungry. Drink water before you are thirsty. No matter what the temperature, you need water and energy to keep going.
* Keeping yourself cool and hiking in Arizona takes a very large amount of energy (food). Salty snacks and water or sports drinks should be part of any hike. Food is your body's primary source of fuel and salts (electrolytes) while hiking in a desert climate.
* Your best defense against illness and exhaustion is to eat a healthy breakfast, a snack every time you take a drink, and a rewarding full dinner at the end of the day. This is not a time to diet.
* Eating adequate amounts of food will also help guarantee that you are replacing the electrolytes (salts) that you are sweating out. If you replace the water, but not the electrolytes that you have sweated out of your body, you can develop a serious and dangerous medical condition known as hyponatremia (water intoxication), which, if left untreated, can lead to seizures and possibly death. You need to eat about twice as much as you normally would to meet your energy and electrolyte needs while hiking.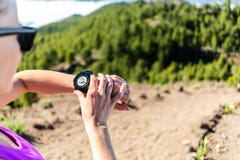 * Plan on taking twice as long to hike uphill as it takes to hike downhill. As a courtesy, give uphill hikers the right of way. Do not hike in the dark! Experienced hikers don't do it, and without a flashlight it is extremely dangerous. 
Do not leave your hiking partner
* If you are hiking alone or with a group, never leave someone behind or let someone hike on too far ahead. This is where a large number of accidents happen.  Leaving someone behind is rule number one and should be avoided at all costs. If your group is tired and can't continue, stop and head back. Live to hike another day.
Give Animals their Space 
* Animals are wild, and no matter how many people they see, they can still attack. The best way to not threaten an animal is to keep your distance at all times. Also, do not feed or try to touch any animal. This includes squirrels, chipmunks, birds, deer or other people's dogs.
**Following these rules is not a guarantee to keep you safe, and many other hikers have their own rules for safety that are great. This list is intended to get each and every hiker thinking about their own actions and behavior on mountains and, hopefully, being prepared enough to help others be safe on the trails.
If you experience an injury out on the trails the dedicated team of Physicians and staff here at TOCA are here to help! To schedule an appointment call: 602-277-6211. 
#Results. #Recovery. #Relief.
TOCA Webmaster
https://tocamd.com/wp-content/uploads/2020/05/toca-banner-logo2-300x138.png
TOCA Webmaster
2017-04-10 14:19:10
2018-10-30 15:39:47
Arizona Hiking Tips: Take a Hike. Do it Right.